Disclosure: This shop has been compensated by Collective Bias, Inc. and its advertiser. All opinions are mine alone. #ProtectFromPetMess #SeasonalSolutions #CollectiveBias
You love your dog and consider her/him to be a core part of your family unit. So, it is only natural that come time for family photos, you want her/him to be included in the shots. Unfortunately, time and time again, you end up throwing in the towel (or should I say leash) and settling for a photo where your lovable pooch is not featured. Why? Because it is just too darn hard to get your pup to settle or pose to your liking. Well, you may be shocked to learn that it doesn't have to be that hard if you incorporate these basic tips.
My background
Perhaps it is because I work as photographer. Or, perhaps it is because I made a promise to myself when my children were born that I would never (within reason and ability) exclude our dog (a.k.a. our 'first born') from family photos. Regardless of the reason, you will be hard-pressed to find a family photo shoot where my human daughters are featured and my canine daughter is not.
Once the photos are taken, and the images are shared, without fail I am bound to receive the following question, "How do you get your dog to pose so good for photos?!"
While I would love to respond with expertise in obedience training, the truth is I'm far from a trainer and my dog (though I personally feel she is the best dog there is… I may be a bit biased ;)), would be far from winning an obedience class.
So, how do I get her to pose perfectly for photo sessions? It is actually far easier than you may think. Taking autumn for example, a prime photography season where family photo sessions so often take place (or at least they do yearly in my household), I will focus on a few creative strategies to get the job done. These same strategies allowed me to capture the below fall photo of all three of my little girls together.
Wanting to see more fall photo inspiration and sessions? Check out Lindsay Laehn Photography
Simple Strategies
DON'T WAIT UNTIL PHOTO DAY

– You wouldn't (or shouldn't) wait until your child is in front of the camera lens at a professional photo session before you tell them that they will be posing for photos. In fact, you likely have been prepping them for a few days or at least a few hours beforehand. So why should this be any different with your canine child? Instead of putting your dog in front of the lens and expecting them to pose perfectly, instead put in the hard work beforehand. Spending the days, weeks, months (making it part of your normal routine) getting your dog comfortable with posing and getting their photo taken is key. 

PRAISE, PRAISE, PRAISE

– I once read that dogs would prefer praise and a belly rub over a treat. Whether or not this is true, the message applies. When your dog "poses" for a picture (even if just for a few seconds), be prepared to turn on the praise. Happy praise, belly rubs, whatever it takes to let your dog know that you are proud of their behavior. Positive reinforcement works wonderful for encouraging your dog through the session.

ARE THEIR NEEDS MET?

– You may not be surprised to hear that it is recommended that prior to a newborn photo shoot a baby should be fed, diaper should be changed, and the baby should be well rested. Well, this is no different for your pup (okay, maybe minus the diaper). Make sure that your dog has had the opportunity to go to the bathroom, that they aren't starving, and that they aren't exhausted from a recent playdate or park trip. Below is a newborn photo I shot of my daughter when I had to make sure both my pup's and my newborn's needs were simultaneously met!
Wanting to see more fall photo inspiration and sessions? Check out Lindsay Laehn Photography
KEEP IT LIGHT

– Even though you may grow frustrated when your dog fails to pose as desired, try your hardest to refrain from reprimanding or frightening your dog. If you were yelled at every time you were asked to take a photo, chances are you would grow to despise photos. The same rule applies for your friendly pooch. 

DON'T PUT YOUR DOG IN AN UNCOMFORTABLE SITUATION

– Is your dog afraid of your child? Does your dog get spooked by water? Is your dog too chilled by the snow? By putting them in an environment they are afraid of, you are basically setting your dog (and yourself) up for failure. Instead, try your hardest to accommodate your dog's needs. Instead of placing him by your child, can you place him by you instead for family photos? Despite loving that water scene, can you forgo the view for that of tall grasses and wildflowers? Instead of exposing her sensitive feet to the cold snow, can you find a fun colorful blanket that would make for a cozy vibe above the snow protecting your dog's sensitive paws? 

KEEP IT SHORT

– Don't expect your dog to be on their best behavior for your entire 1 hour (or however long it takes) photo session. In fact, I recommend starting with the dog shots and then letting them play or do their own thing while you finish up with the rest. Not only does this cut back on your dog's anxiety but it will cut back on yours as well! 

GO WITH WHAT YOU'VE GOT

– Just like humans, canines are not computers that you can program to act, look and behave a certain way. So embrace what you get and go with it! Is your dog facing the wrong way? Accommodate by shifting your positioning. Is your dog looking down instead of up? Turn it into a candid shot like the one below. When my dog was obsessed with watching something in the grass, I decided to play up the shot by encouraging my daughter to look down as well at a pumpkin…. the end result… a fun candid shot. 
Wanting to see more fall photo inspiration and sessions? Check out Lindsay Laehn Photography
KEEP THE LEASH ON

– Either the entire time or until the last possible minute. Having a leash on your pup not only ensures their safety (not running out where they shouldn't be) but helps get them into position. Once they are in position, you can either quick undo the leash (without them even knowing they are off of it). Not wanting to take the leash off? No worries. Either tuck/hide it underneath or behind your pup or incorporate it into the picture (i.e. a cute photo of your child walking their pup). 

DON'T BE AFRAID TO LET THEM GET DIRTY

– Chances are you have found yourself saying, "be careful don't get that outfit dirty" during photos to your child. While you would like to ask the same of your dog, if you do you are likely asking for a troubling shoot. Instead of worrying about muddy paws (a likely event during fall and winter photo sessions), allow them to explore as needed (if it means you get that ideal shot) knowing perfectly well that muddy paws and future messes can be avoided.
In fact, thanks to STAINMASTER® Carpet Pet Stain Remover I don't worry about this aspect of photos at all. However, I'd be lying if I said this wasn't always the case.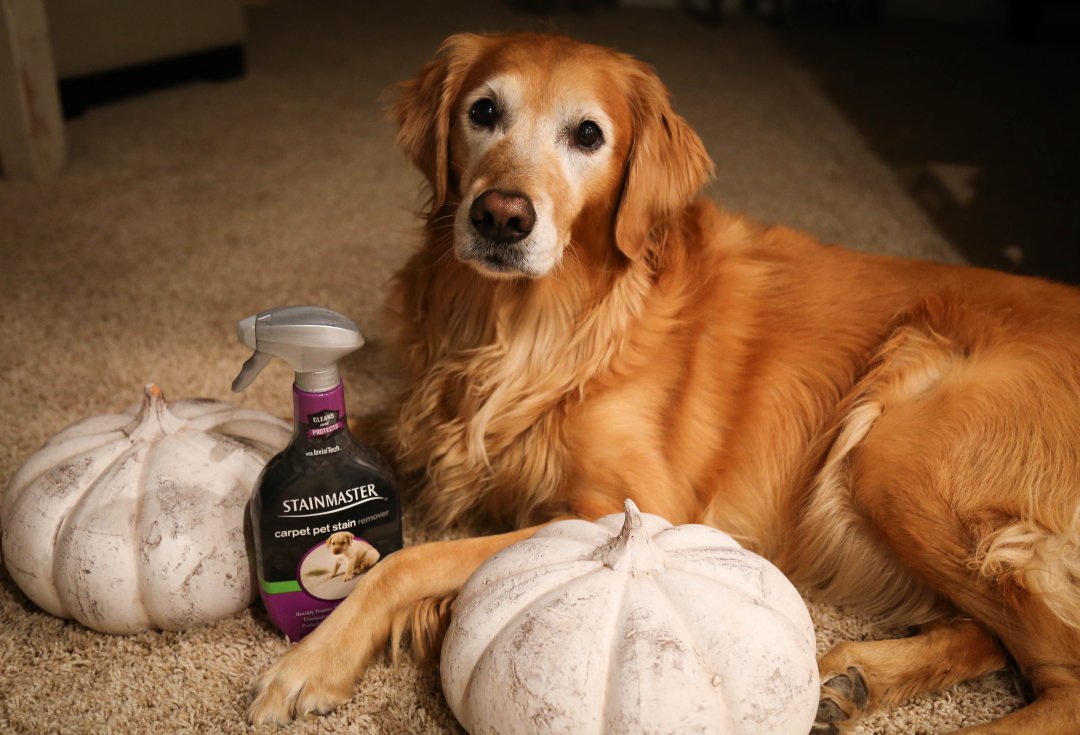 Interested in using STAINMASTER® Carpet Pet Stain Remover for you next fall photo session? Hover over the photo to click through to Target.com and buy it here.
I loved fall photo sessions but I was horrified to think about the fact that they would often end in muddy carpets. While it was true that post photos, my family members and I would be sure and leave our muddy shoes in the garage, we weren't granted this same privilege with our dog. Sure, I could try (and did) to scrub my pup's paws as good as possible, but it always seemed inevitable that mud and leaves would end up getting tracked in and smeared onto my light carpets.
So, I made a quick stop to my "go to location" Target and found STAINMASTER® Carpet Pet Stain Remover in the cleaning aisle. The beauty of this product is that it not only removed any and all stains caused by my pup (including ones that aren't specific to mud, i.e. urine, vomit, etc.), but it also protects my carpet from future stains as well while simultaneously removing any odor… score!
Luckily now, I can focus more on the photo and photo session and less on the aftermath and my carpets, making sure to always have a bottle of STAINMASTER® carpet cleaner on hand before every photo shoot.
The real secret behind making sure your pup poses effectively for photos is that there is no secret at all. Implementing the above strategies will help make sure your next photo session is less of a headache and more of a keepsake featuring your dog.
What do you do to help your pup pose for photos? I'd love to hear!