This shop has been compensated by Collective Bias, Inc. and its advertiser. All opinions are mine alone. #MyLiteracyStory #DGMyStoryEntry #CollectiveBias
You know the importance of reading. You know that literacy is a very important core element in your child's education, required to help them achieve their full potential. You know that you are willing to do whatever it takes to help your child succeed in school and life.
However, you also know that life is busy. You know that school days are already jam-packed with very little "free" time built-in and that more days than not you and your children never discuss reading, let alone read a book together.
Well… wouldn't it be great if there was a way you could implement reading into your family's daily routine? Wouldn't it be even better if in doing so you were able to not only instill excitement around the concept, but also strengthen family relationships at the same time?
Well luckily, implementing the love of reading into your family's daily routine can actually be far more easy than you may think. Even better, this particular routine takes place at a time that you already have built into your daily routine… breakfast!……………..
Family Book Club Breakfast Challenge
You've heard of a "book club". Perhaps you are even involved in one. But did you ever stop to think that you could create your very own "family book club"?
Knowing that breakfast is an important meal of the day (many would even state it is the MOST important), I challenge you to kick off your mornings with a "family book club", that is centered around your breakfast.
Behind the Challenge
Knowing that Kellogg's® is a proud sponsor of the Dollar General Literacy Foundation and that every day, Kellogg employees work together to fulfill the vision of enriching and delighting the world through foods and brands that matter, I decided to visit the Dollar General to purchase Kellogg's cereals. What better way to start your day (and the days of your children) than with a delicious Kellogg breakfast AND a fun challenge!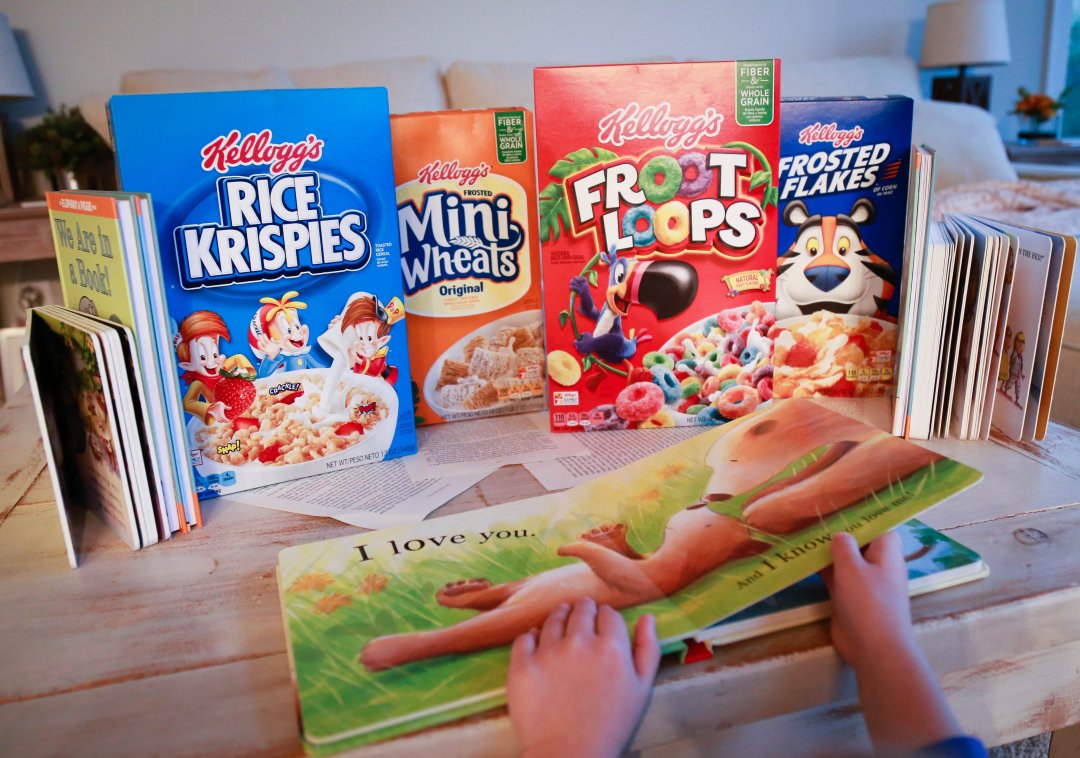 Hover over the image above to shop Kellogg's cereal.
Breakfast Options
Bringing extra excitement to "family book club", it is great to offer a variety of breakfast options. With the commitment of Kellog's to provide 3 billion "Better Days" through 2025, with the initiative to feed both people and their potential, why not choose any of the following:
Kellogg's Frosted Flakes® Cereal
Kellogg's Froot Loops® Cereal
Kellogg's Frosted Bite-Size Mini-Wheats® Cereal
Kellogg's Rice Krispies® Cereal
Offering a variety of yummy breakfast cereals to your children is sure to only build the excitement of "family book club" time.
Implementing Reading
Once breakfast options have been made, it is time to implement reading. While sitting around at the table, choose from two different fun ways to encourage reading.
1) Book report. Encourage your child (perhaps one child is assigned to each day if breakfast time is short and you have multiple children) to share (a verbal book report of sorts) about their favorite books or a book they recently read. A fun idea for all ages, as even a young child can share about their favorite short book.
2) Read together. Have young children? Try a short children's book. Have older children? Perhaps read one chapter a day out of a longer novel. Allow your child to read one page and you read the next. Here is where you can get creative!
The Literacy Initiative
Wanting to learn more while possibly earning a $50 Dollar General gift card in the process? Celebrating over 20 years of helping others learn to read, prepare for their high school equivalency, or learn English… the Dollar General Literacy Foundation encourages you to enter the #DGMyStory Sweepstakes with using the hashtag #DGMyStoryEntry and sharing your very own personal literacy story for a chance to win!
More Reading Fun
Looking for an additional way to encourage reading in your child? Be sure to check out my post, "How to Have your Children Begging to Read: DIY Reading Nook".
Wanting to grow your children's book collection while exciting young readers? Check out my post on how I grew our family collection into the hundreds by clicking here.
Happy reading!